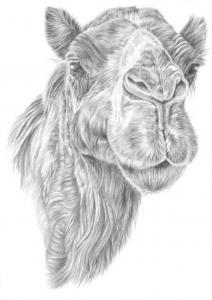 After over 20 years living abroad, I am finally returning to live in my home town of Dorset.

A lot of my time overseas has been spent in the Middle East - Bahrain, Abu Dhabi, Dubai and now Kuwait. It seems somehow fitting, that my final commissioned drawing done on Kuwait "sand", is that of a camel! This camel I photographed in Ras Al Khaimah; there is a camel racing track there which we visited one afternoon. There wasn't an actually race happening at the time but there were young camels practicing on the track and groups of camels meandering around outside the track. This guy we met wandering around, he actually came over, lowered his nose for a stroke and cooperated nicely by posing for photographs. I have loved drawing these amazing creatures so much, I hope at least someone in the UK would like a camel drawing!

So the pencils are being packed away, to be revisited on UK soil. Farewell to expat life, hello green trees, countryside and finally putting down some roots.