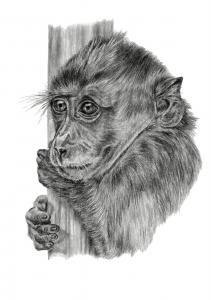 This adorable little monkey I photographed in Baguio in the Philippines. Unfortunately he was being kept as a pet and was on a long chain tied to the post that he is clinging to. At the time, Baguio was hosting a garden show/competition and somebody seemed to think he enhanced the look of their garden – as I expect you can tell, I am totally against keeping wild animals as pets!

In any case, even though this photograph doesn't hold good memories for me, I do love the depth of emotion in his eyes. I always strife to show emotion in my drawings, therefore I wanted to attempt this one. My husband in the background is saying " A frightened monkey, Denise no one will buy it"! However instead of being commercial, it is more important for me to draw what moves me, so a worried monkey it is!

Here he is, the finished little monkey. I am so sorry I couldn't help him escape the situation he was in.

The original actually did sell, husbands don't always know best! However he is also available as a print.